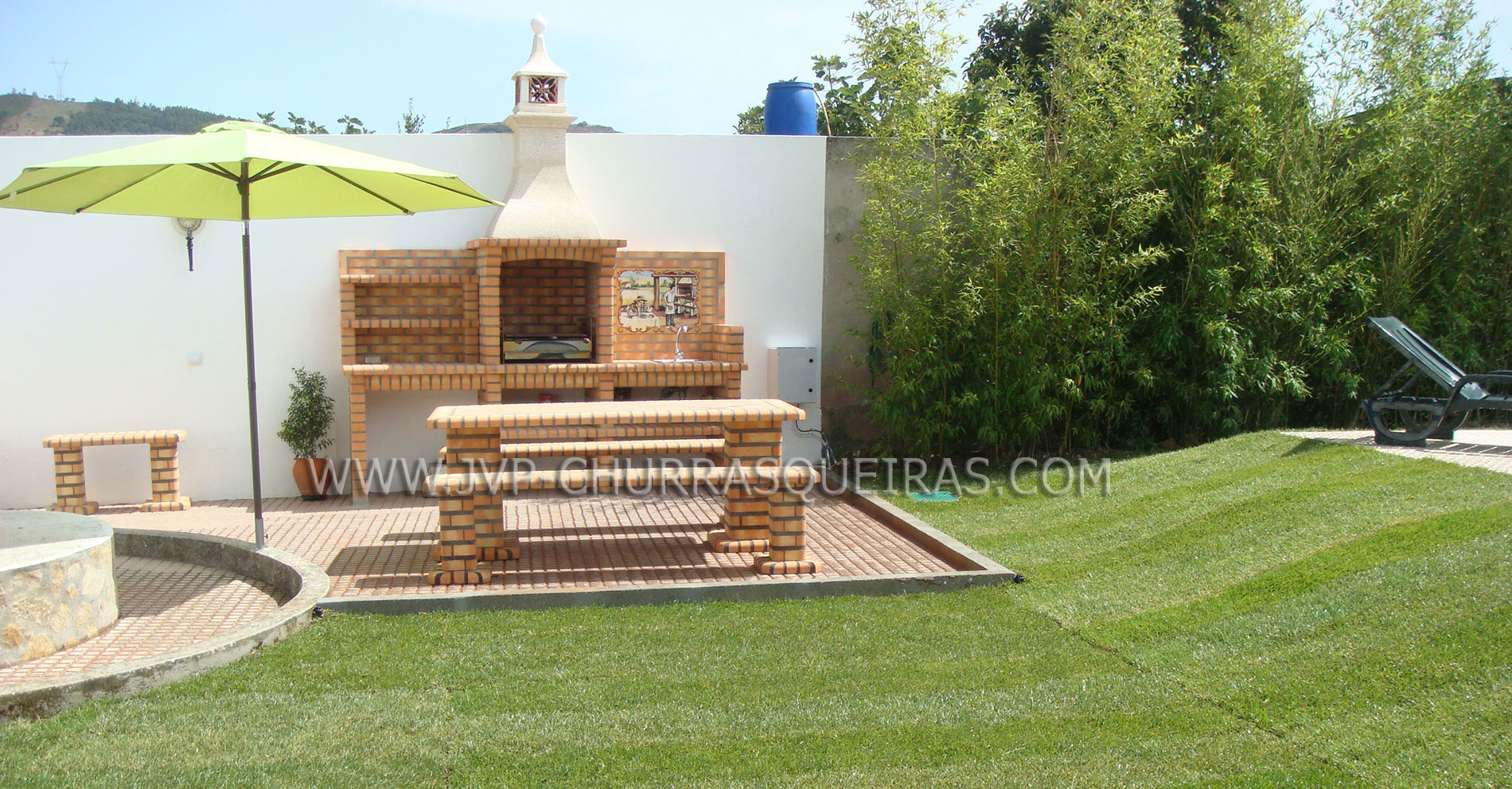 Barbecue
Welcome to this site Portuguese manufacturer of ovens and brick barbecues.
Manufacturer of barbecue grills tailor the taste of each client and grills in standard models and traditional ovens to bake bread, pizza or delicious oven recipes.
Barbecues
See all our promotions on BBQ grills and ovens at special prices.
---
---
Thanks for your visit to this our online catalog, where we are proud to present a good part of what we have at your disposal.
Oven isolated with cork, expanded clay and rockwool, this oven has a thermometer for measuring the temperature of the oven. Oven with cast iron door, the oven has a tube in front for stainless steel flue.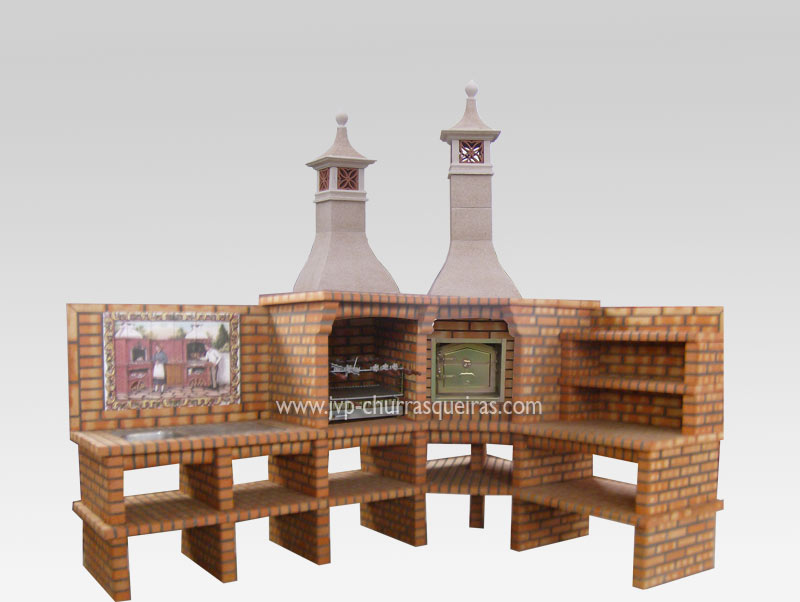 BBQ with tiled panel, typically the Portuguese, which can be exchanged for another reason the customer wants, this grill also there is a wood stove in the corner, to be able to roast a chicken, a pig, make bread, or anything you want, and left the oven to grill where you can make your grilled. It also has the right a workbench with shelves for greater storage.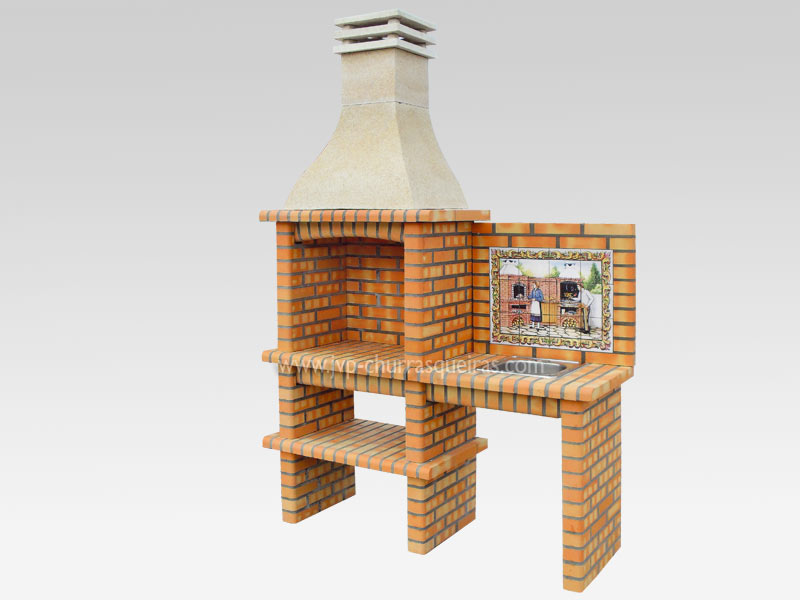 This reference when it was created, was aiming to be installed at times and places open, outdoors, or in annexes built separately from the housing. (BBQ, Made in Portugal)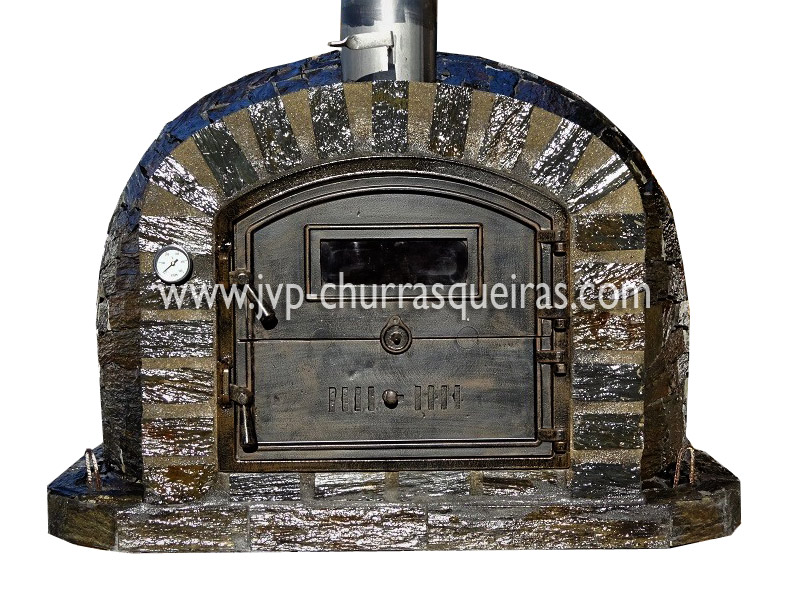 The Stone Oven is a rustic-coated oven, rests on a concrete base. It has a door cast iron and thermometer. The oven will remain hot for much longer, which is ideal for those who like to cook.
[/vc_row]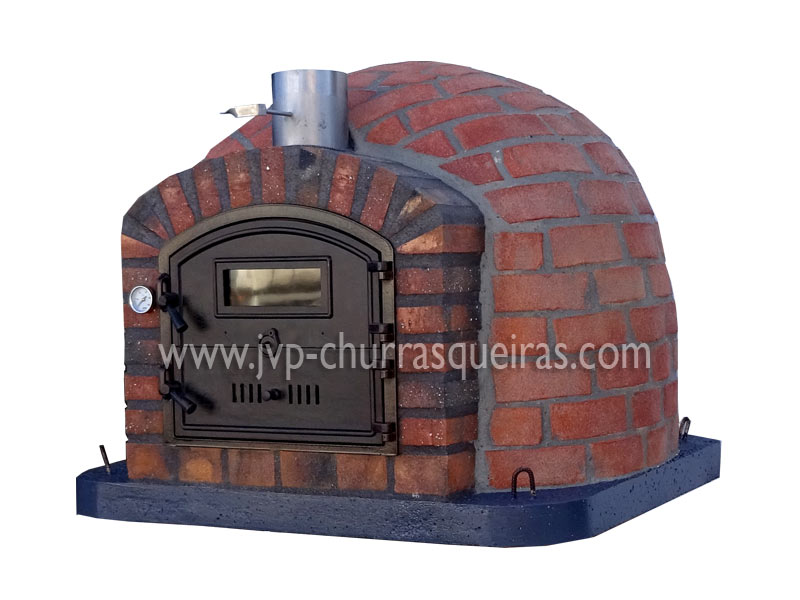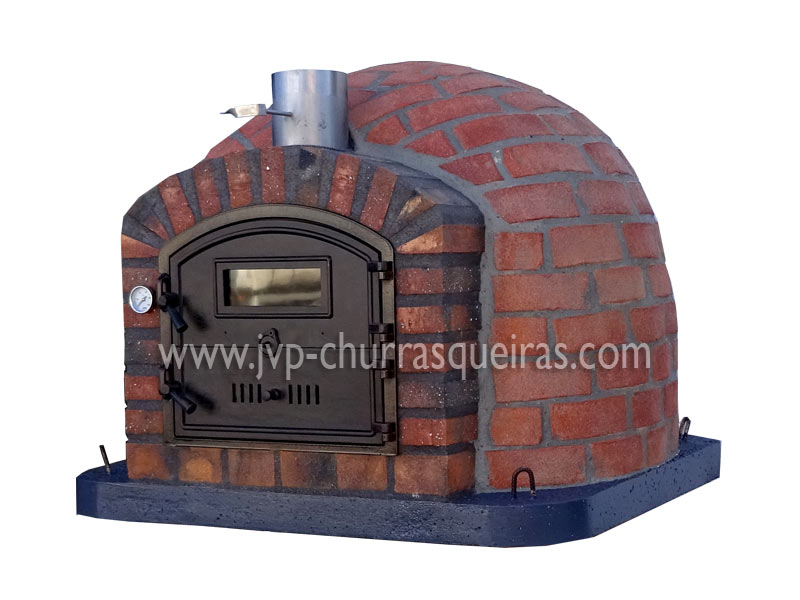 Rustic Oven executed by hand and with high quality raw materials, cement and firebrick. It's a different oven the usual but has its own characteristics and superior quality. They have a flue in the upper part of the furnace for stainless steel, an aluminum door glass regulator system fumes and Cardão the door so that it is completely sealed, without flue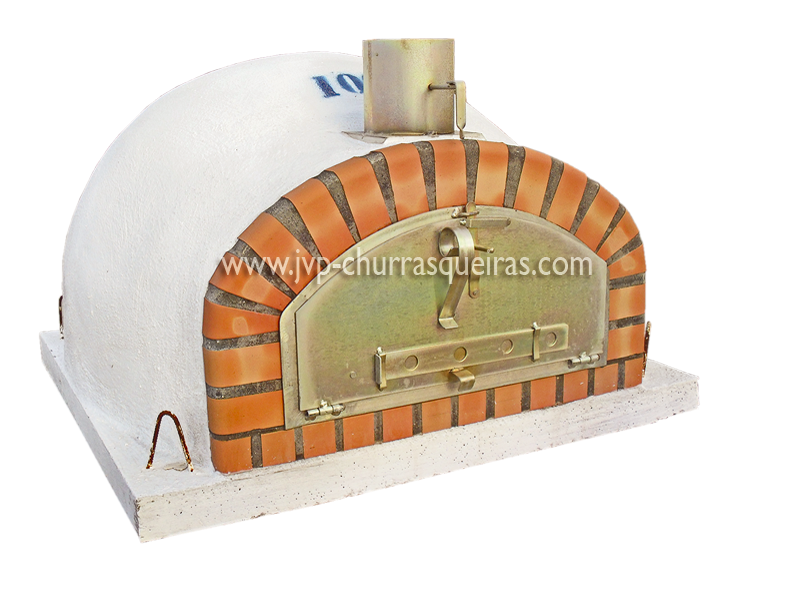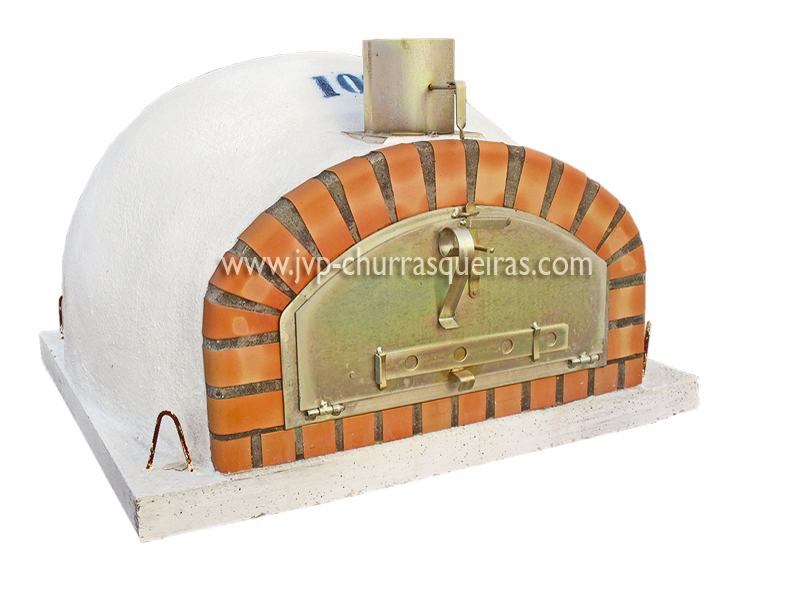 Ref. FR 522 – Oven with the flue pipe ahead. Oven with door opening on top, this oven is ideal for baking bread, pizzas and other recipes. Ovens manufacturer, wood fired ovens, Barbecue and Pizza Oven.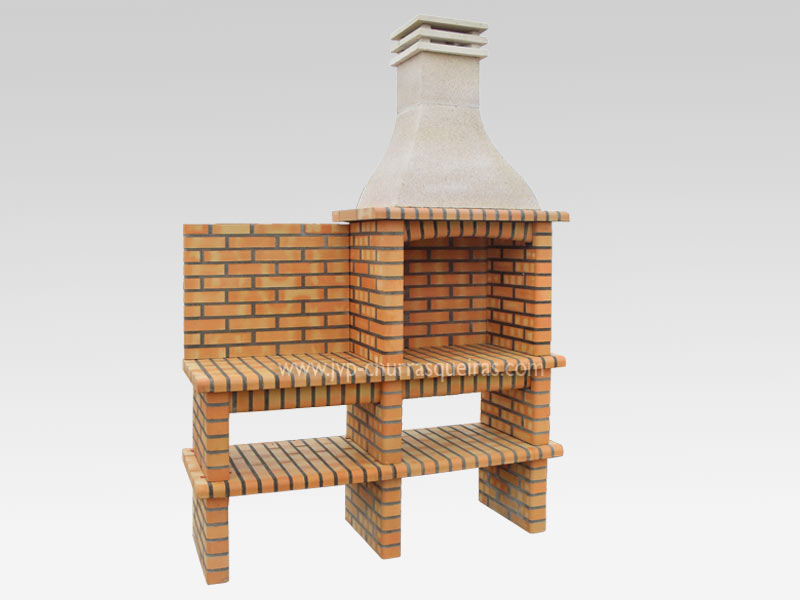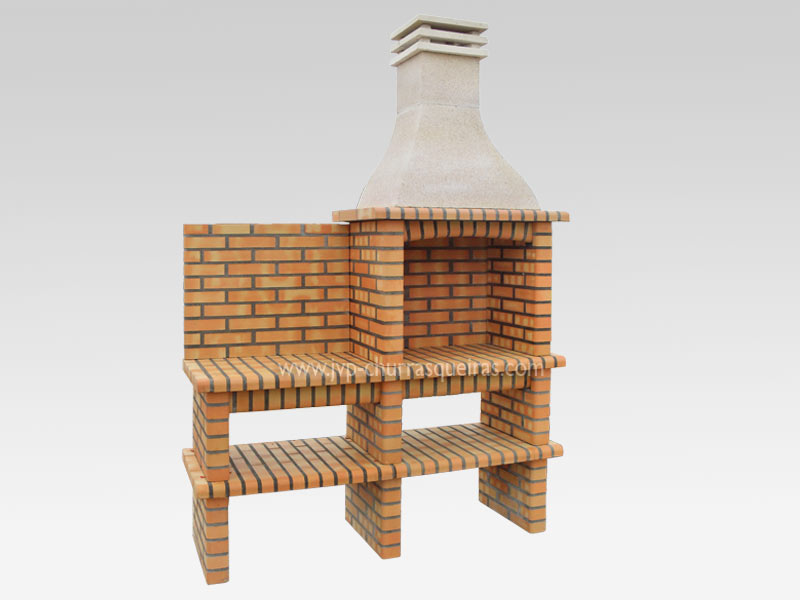 CH-206 T – It is a grill that fits well with most homes we have, with simple decor, and turns out to be a model with a very large sale. Brick has a panel in front of the workbench, which can also be shifted to the right or left, depending on what the customer desires.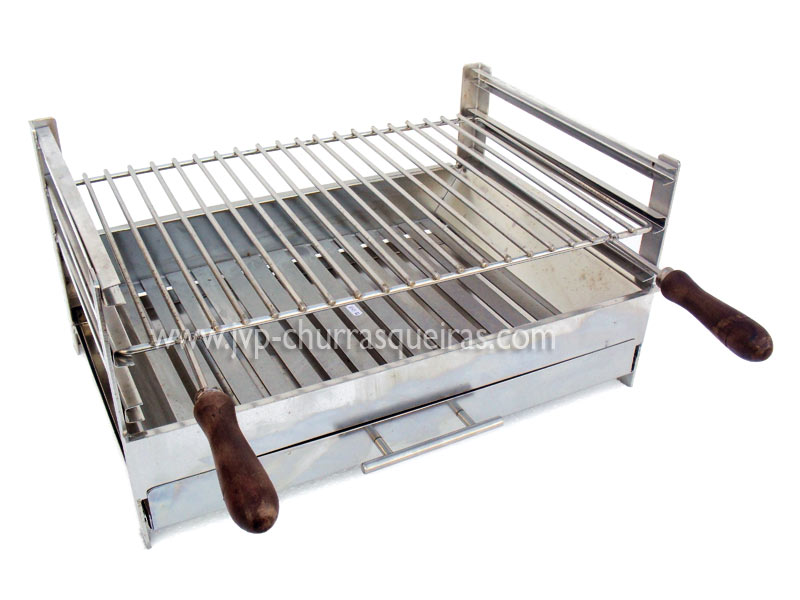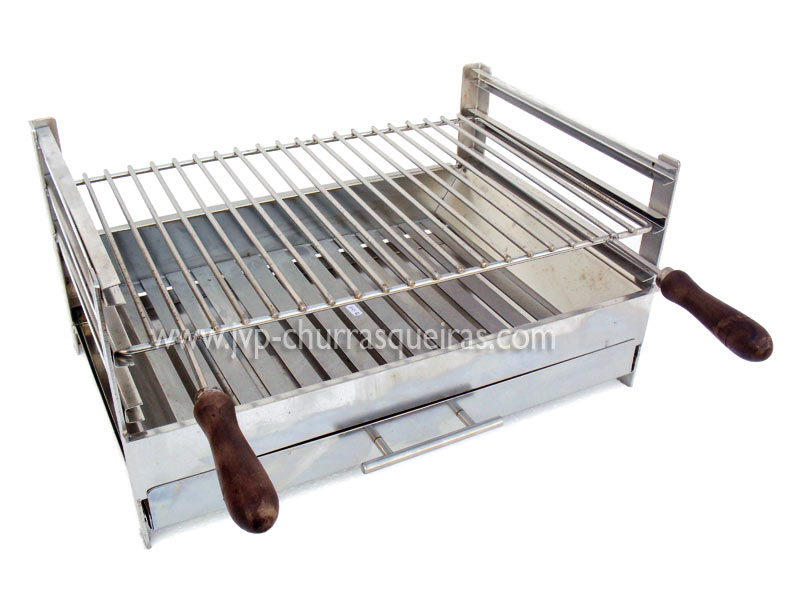 Ref. AC-10 . INOX has been much more durable than iron, do not get rust, and is much more hygienic and much easier to clean. Have the ability to go up and down the grid, has 3 possible heights, which can adjust depending on the intensity of coal. Grill: 60 X 40 cm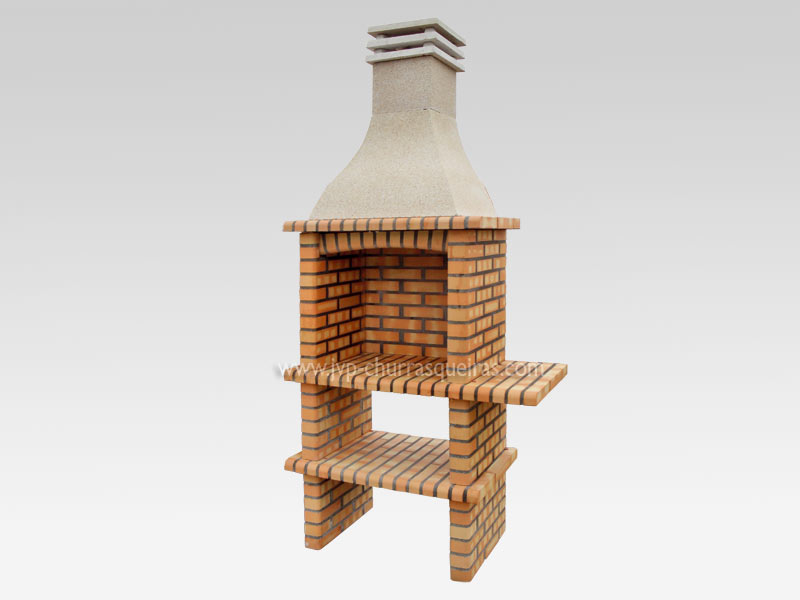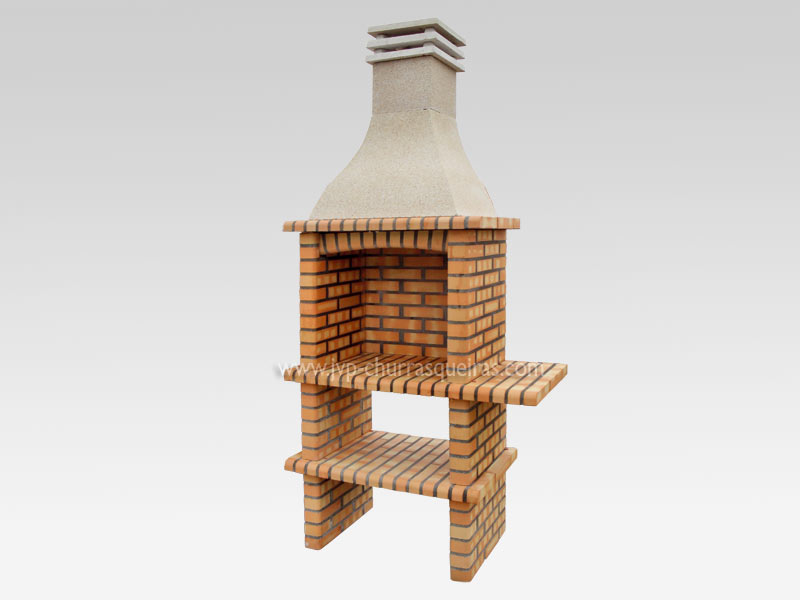 Ref CH-205, When we created this model of grill was in order to meet those families who need a simple barbecue, but at the same time, it is a complete model, because it has a flock of lateral support, which can be installed either to the left and to the right to the customer's taste, and always has a lot of utility.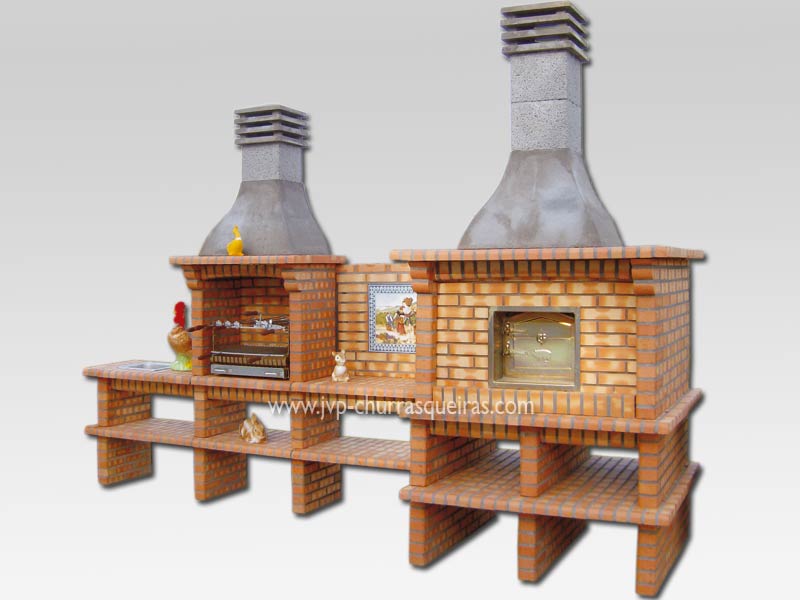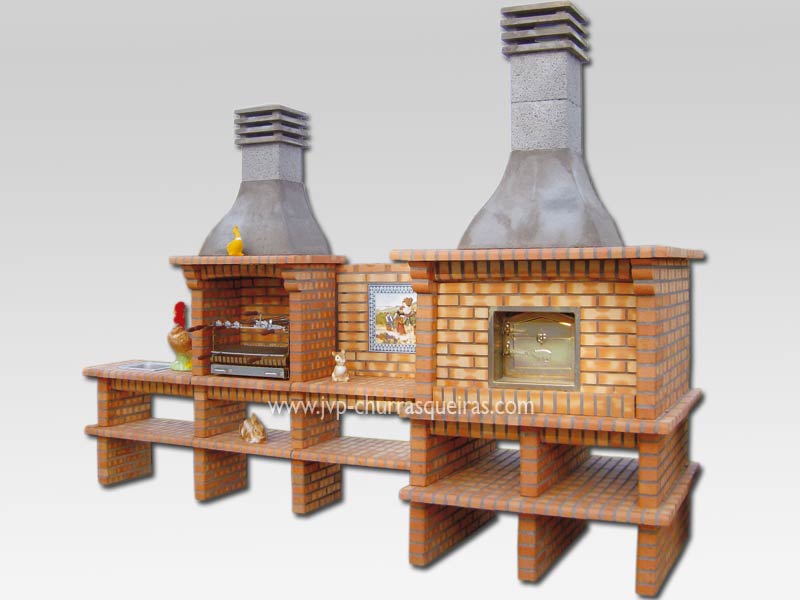 Ref. CH-29 – BBQ with the center panel and oven on the right and left side of the grill with countertop to put a dish, a dish or something you want. This grill is also the left side of a wash basin, to a wash dishes, fixtures or work.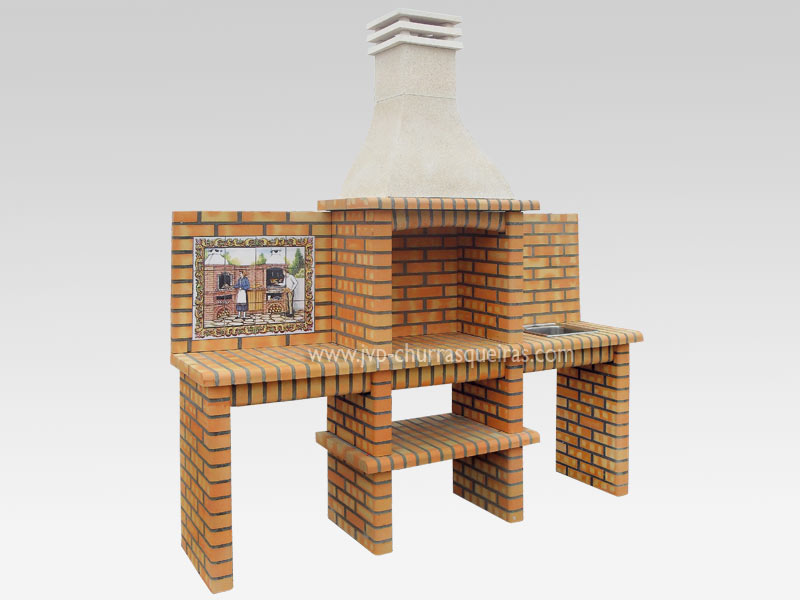 CH-218 AT – It is a grill that has a bench on each side, and one with a dishwasher, which can be placed on both right and left, as the end customer desired. It also stand in front of each one panel of a side wall. And on the other side with a decorative tiled panel, which can either be placed on the right or left depending on what client p like to see more, and better fit the decor.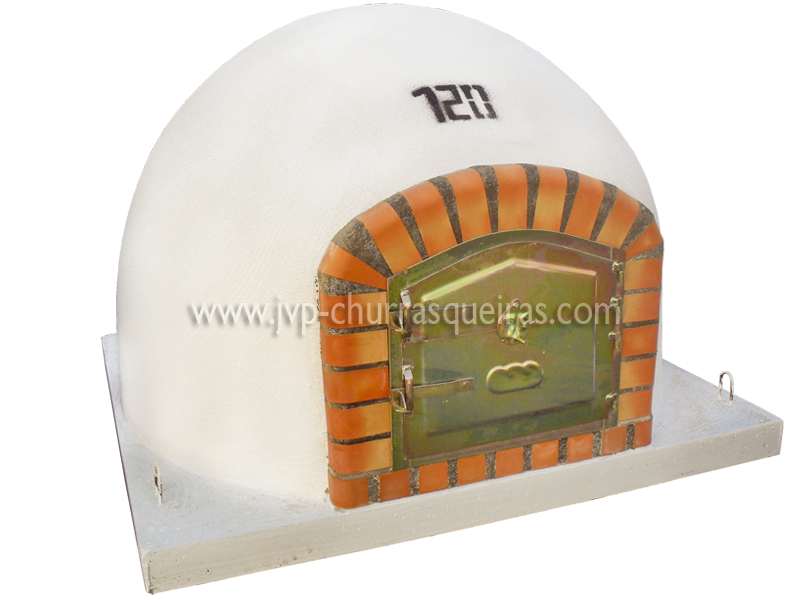 Ref.516. Oven with bow in front refractory bricks, door split in half to put the skewer piglet to the center, this oven can always roast a pig perfectly without having to leave home, to eat a good piggy, can also bake bread, make pizzas or make other recipes you like… 1,20m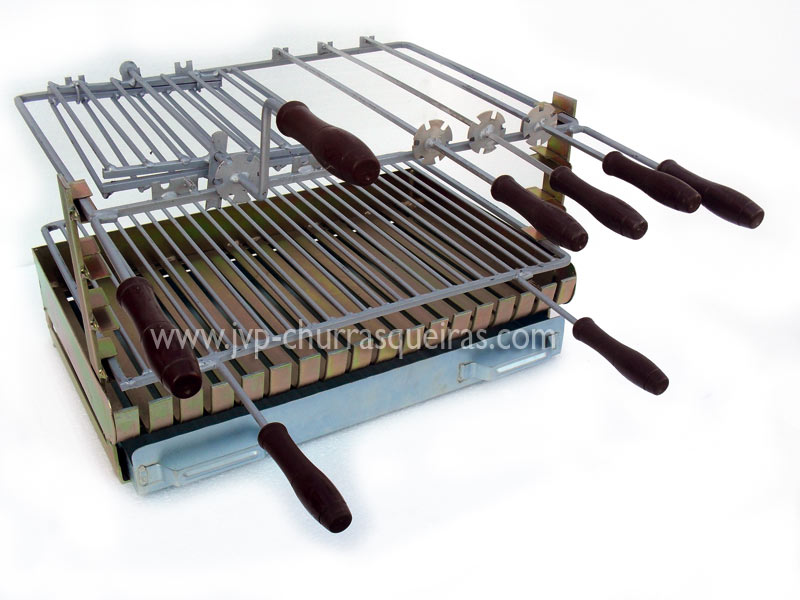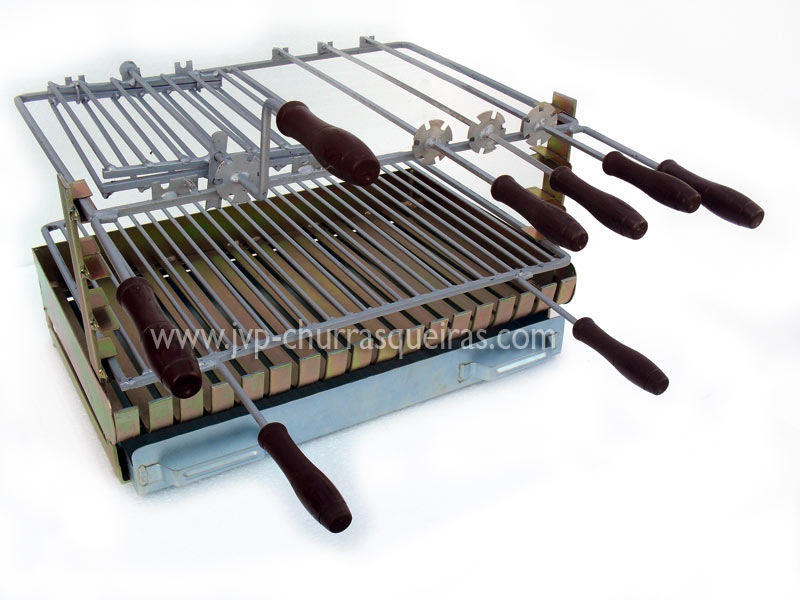 Ref. AC – 09 – This is the grill in fuller have galvanized iron, consists of a grill iron, which has four height levels in order to ascend or descend by the intensity of the coals. Also has 3 skewers to make skewers INOX, a grill chicken with the ability to run and fix wherever you want. It also has a drawer to gather the ashes not to soil your barbecue.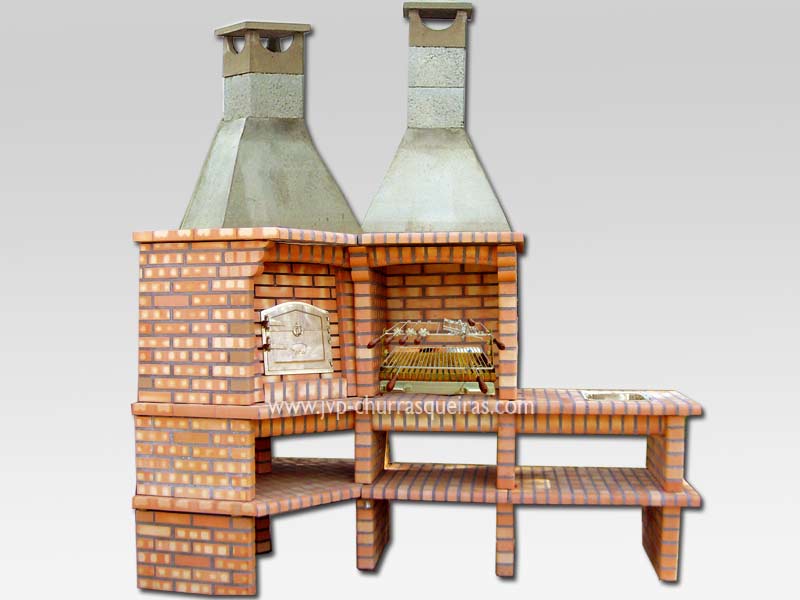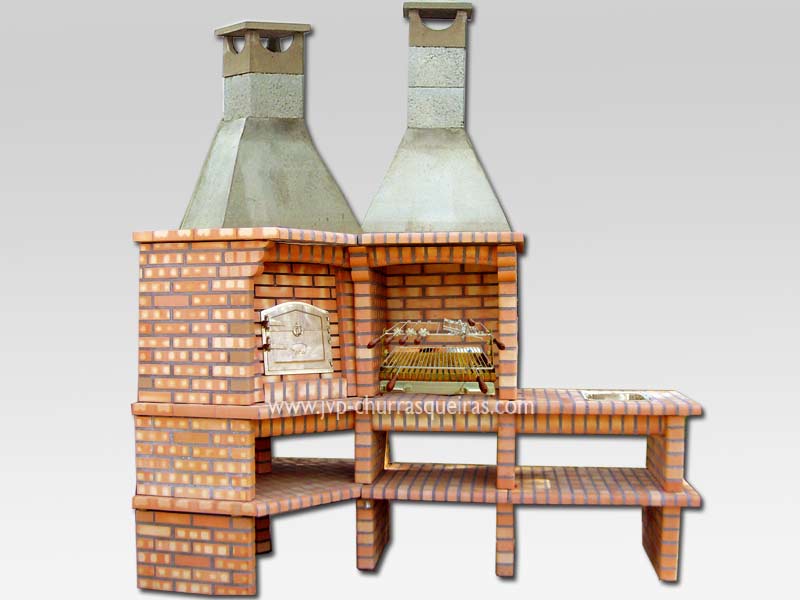 Ref.CH-30 – This model fits a barbecue corner, many people have a corner that does not give utility, and therefore have the possibility to install there a grill with an oven and dishwasher on the right side. This grill oven there is a left, a center, and a grill dishwasher INOX the right side
[ultimate_fancytext strings_textspeed="35″ strings_backspeed="0″ fancytext_strings="Barbecues
Wood Ovens
Manufacturer
BBQ Grills
Brick BBQ
Ovens
Nice Prices"]
[ult_content_box][/ult_content_box]